Dolphin Healthcare Sdn Bhd
F-3-10, Block F, Jalan Prima 5/3,
Taman Puchong Prima,
47100 Puchong,
Selangor, Malaysia.

+603-80683855
+603-80604755

+603-80623755
PMSF Cool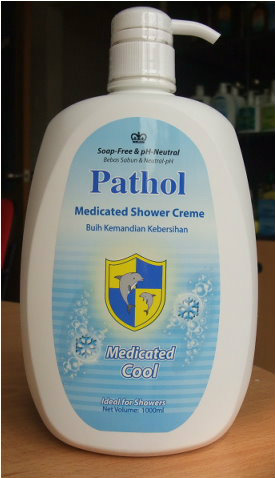 Section 1. Product and Company Identification
Product Name
PATHOL MEDICATED SHOWER FOAM
Product Descfription
Antibacterial shower foam to kill germs with residual antiseptic effect.
Manufacturer
Dolphin Healthcare Sdn. Bhd.
F-3-10, Block F, Jalan Prima 5/3
Taman Puchong Prima, 47100 Puchong
Selangor, Malaysia
Product Code
PMSF
Formula Code
UK - 031210
In cae of Emergency
Telephone: +603-80683855
Validation Date
01-03-06
Section 2. Composition and Information on Ingredients
Name
CAS Number
% by Weight
Exposure Limits: TLV/PEL
(1) Chloroxylenol
88-04-0
0.2 - 2.0
Not available
Section 3. Hazards Identification
Emergency Overview
Avoid contact with eyes. KEEP OUT OF REACH OF CHILDREN.
For external use only.
Section 4. First Aid Measures
Eye Contact
Immediately flush eyes with plenty of water, remove any contact lenses, and continue
rinsing eyes for fifteen minutes. Consult a doctor if irritation persists.
Skin Contact
Rinse with water.
Inhalation
None required under recommended use conditions. Remove to fresh air.
Ingestion
Rinse mouth and drink a glass of water. If symmptoms persist, consult a physician.
NEVER give an unconscious person anything to ingest.
Section 5. Fire and Explosion Data
Flammability
Non-Flammable.
Flash Point
Not applicable.
Explosive Limits in Air
Not available.
Products of Combustion
Not available.
Fire and Explosion Hazards
None known
Section 6. Accidental Release Measures
Accidental Spill
Small spills may be wiped up with a wet paper towel or flushed to sink or sanitary
sewer with water.
Large spills should be contained and collected for disposal. Wash or rinse walking
surfaces to eliminate slippery conditions.
Section 7. Handling and Storage
Handling and Storage
Avoid eye contact. KEEP OUT OF REACH OF CHILDREN. For external use only.
Store in original container in an area inaccessible to small children.
Section 8. Exposure Controls/Personal Protection
Ventilation Requirements
None required.
Eye Protection
Avoid contact with eyes. Emergency responders should wear full eye and face
protection.
Skin Protection
None required
Respiratory Protection
None required
Other Protection
None required
Work/Hygienic Practices
None required
Section 9. Physical and Chemical Properties
Description
Cream
pH
7 (Neutral)
Odour
Original Fragrance (Phenolic characteristic smell)
Colour
Pearlised Yellow Colour
Boiling/Condensation Point
Not available
Specific Gravity
1.02 (Water = 1)
Vapour Pressure
Not available
Solubility
Complete
Viscosity
Not available
Vapour Density
Not available
Physical/Chemical Comments
Not available
Section 10. Stability and Reactivity Data
Chemical Stability
Stable
Conditions of Instability
None known
Incompatibility with various
None known
substances
Hazardous Decomposition
None known
Products
Hazardous Polymerisation
Will not occur.
Section 11. Toxicological Information
Exposure effects
Eye Contact
Direct contact with the eyes may cause irritation and redness.
Skin Contact
None expected.
Inhalation
None expected.
Ingestion
None expected. May cause stomach distress, nausea and vomiting if ingested.
Carcinogenicity
Not listed as carcinogenic by OSHA, NTP or IARC.
Section 12. Ecological Information
Ecotoxicity
Not available.
Section 13. Disposal Considerations
Waste Disposal
Dispose of in accordance with local, state and federal regulations. Rinse container
and discard or rinse and recycle as appropriate.
Section 14. Transport Information
DOT Classification
Not regulated by DOT (United States)
Proper Shipping Name
Not applicable
DOT Identification Number
Not applicable
Packing Group
Not applicable
Maritime Transportation
Not applicable
Hazardous Substances
Not applicable
Reportable Quantity
Special Provisions for
Not applicable
Transport
TDG Classification
Not regulated by TDG
ADR Classification
Not applicable
IMDG Classifciation
Not regulated by IMDG
IATA Classifciation
Not regulated by IATA
Section 15. Regulatory Information
Federal Regulations
SARA Title III, Section 313 Toxic Chemical Notification & Release Reporting
Section 16. Other Information
Notice to Readers;
To the best of our knowledge, the information contained herein is accurate. However, neither the above name manufacturer nor any of its
subsidiaries assumes any liability whatsoever for the accuracy or completeness of the information contained herein. Final determination of
suitability of any material is the sole responsibility of the user. All materials may present unknown hazards and should be used with caution.
Although certain hazards are described herein, we cannot guarantee that these are the only hazards that exist.